D-Day/The Day
June 6, 1944. Most people, when they hear the words "D-Day" are quick to note that D-Day was the day of an important battle of World War II. But those who have a special interest in World War II, and those who had a father, or grandfather, or uncle who was "there" on D-Day, and those who had a family member who died in the struggle to ensure the success of the D-Day landings–or know someone who did–D-Day stands out as one of the most important dates in the history of World War II. In fact, one of the most important days in the history of the World.
I fall into the category of "someone who had a family member who died…" And that is why, when I learned that historian Alex Kershaw would be leading the Friends of the World War II Museum's "Victory in Europe Tour," my husband and I signed up.
We had been to London once, been to France never, and so we decided to arrive a couple of days early…and add on a bunch of days after the tour ended.
And so, last June we embarked on our third "trip of a lifetime."
In the weeks after we arrived back home, I had fun posting photos with brief accounts of each day's adventure on my Facebook and Twitter accounts. But I only got as far as the last day of the Tour. In the past, I've enjoyed writing about our travels more at length, and thought about continuing the narrative on FB and Twitter. But those sites don't allow me to write at length, as I so often do here. So I decided that for my own sense of continuity, I'd repeat those earlier online write-ups here preparatory to adding on, afterwards, to tell of our travels in the Loire Valley…and Paris.
WINDSOR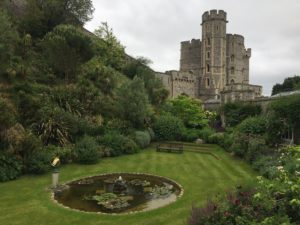 June 6, 2022. We landed at Heathrow and took a car to Windsor Castle. Everything pristine, as one would expect. The Royal Stanard was flying we were told, indicating the Queen was in residence. No photos allowed inside, so memory must suffice. The display of treasures given to British monarchs (from foreign heads of state as well as from "the Colonies") left me with the same impression I had at the Vatican. The amassing of this much wealth under one roof simply felt somehow wrong. Most vivid impression: St. George's Chapel (familiar b/c of Meghan and Harry's wedding, Prince Philip's funeral); the coats of arms and standards of members of the Order of the Garter…the stone marking the tomb of Henry VIII (and Jane Seymour).

We asked a guide about this guard. "A Ghurkha," we were told. "They're as deadly with a knife as with a gun." Good to know, I guess. The Queen is well protected.

ETON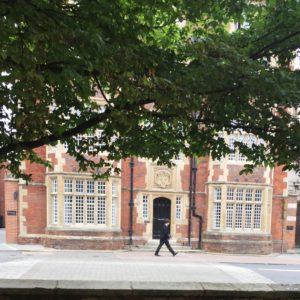 The guidebooks suggest walking through the town of Windsor and over the Thames to Eton, which we did. But the "college" is not open to the public (enclosed by brick walls, like Harvard Yard). We did see a good number of students, walking singly and in groups. Did not realize the school had such an eccentric, anachronistic dress code. But seeing is believing: black pin stripe trousers, black waistcoat (bottom button undone a la Edward VIII), black tailcoat (technically speaking, a morning coat), well polished black shoes, white tunic shirt, cufflinks, Arundel collar, and white tie! (We saw several men…and women…stroll by…wearing black academic gowns: Teachers…or are they called "masters"?
The Empire may be dead, but clearly the grooming of young Aristocrats is not.


KEW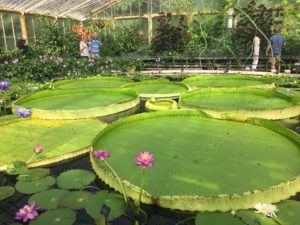 Spent the entire next day at the Royal Botanical Garden Kew. It wasn't nearly enough time. We even made it to the top of The Great Pagoda! Everyone who loves gardens/gardening needs to make a pilgrimage here. Glad we took the time to tour Kew Palace, where George III was hidden away by his family. His mother Princess Augusta established the gardens (and built the Pagoda).


LONDON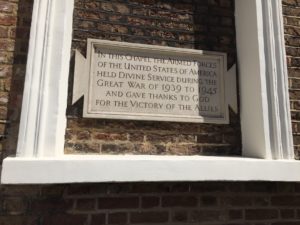 There are reminders of World War II all over London. Although the U.S. was at War and suffered devastating losses, made countless sacrifices, we were still protected from civilian casualties and the fear of imminent invasion. In London and beyond, there's evidence of war beyond memorial statues and plaques…for the Battle of Britain has left scars across cityscapes and countryside as well. And family lore includes stories of lives lost or nearly lost when in the days before the Luftwaffe was driven from the skies.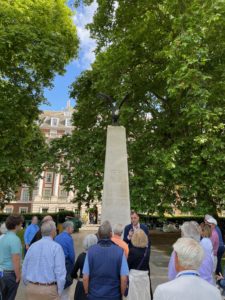 Grosvenor Square
Day 1 of our "Victory in Europe" Tour with Friends of the World War II Memorial: Alex Kershaw took us on a walking tour in and around Grosvenor Square, where the British have erected monuments to honor Americans: to the Eagle Squadrons of the RAF and President Franklin Roosevelt.
On the Eagle Squadrons plinth are engraved these words: "EAGLE SQUADRONS / THIS MEMORIAL IS TO THE / MEMORY OF THE 244 AMERICAN / AND 16 BRITISH FIGHTER PILOTS / AND OTHER PERSONNEL WHO / SERVED IN THE THREE ROYAL / AIR FORCE EAGLE SQUADRONS / PRIOR TO THE PARTICIPATION OF / THE UNITED STATES OF AMERICA IN THE SECOND WORLD WAR"


Imperial War Museum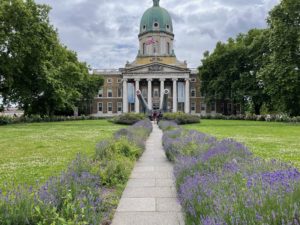 When you wander through a museum, you never know which exhibit might commandeer your attention and remain with you long after your expedition is over. Imagine the determination of a woman who keeps a diary throughout four years of internment as a prisoner of war…steals a bedsheet, managed to obtain a needle, and pulls colored threads from hospital linen and embroiders and appliquéa 1,100 names, as well as signs, figures, and two years of diary in code. "It was not begun with any purpose consciously in mind, nor was it continued with any 'after-the-war' ideas. It was simply a hand steadying, mind employing, secret thought recorder of my own" Imperial War Museum. Photos courtesy Friends of the World War II Memorial.


Churchill War Rooms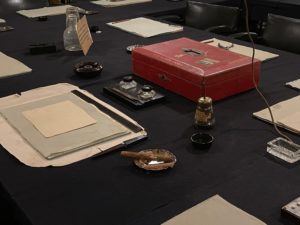 To visit the Churchill War Rooms is to be in the presence of history. Winston Churchill really sleep here. And this is the place from which he conducted strategy meetings with generals and key War planners. It was a privilege to tour this place with Friends of the World War II Museum. We were given special access… so close to the maps, we could see the pin holes.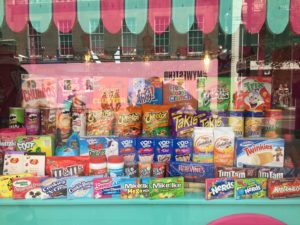 Have to admit, much of our trip was focused on World War II. And that was serious stuff. But there were plenty of lighter moments, too. Like strolling down Oxford Street and discovering not one, but two, shops devoted to American junk food! Gotta say, I was more than a little shocked. Yikes!


PORTSMOUTH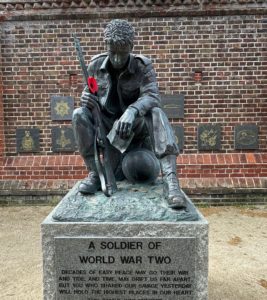 This haunting tribute is at The D-Day Story, Portsmouth, England. We were there with the "Victory in Europe" Tour led by Alex Kershaw, organized by Friends of the World War II Memorial. Truly, all of us on that journey left pieces of our hearts behind.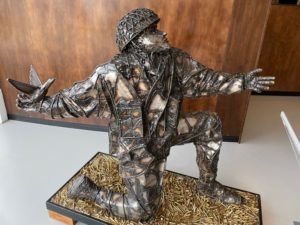 "D-Day Soldier of Sacrifice." – Portsmouth, EnglandThe figure represents Den Brotheridge, first Allied soldier to be killed on June 6, 1944. He's surrounded by 4,413 bullets, one for each of the others who died that day.
Crouched as though ready to throw a grenade, he is instead releasing a dove, symbolizing peace, reminding us that we are all responsible for protecting the freedom that was so hard won in World War II.
"The more I've learnt [while working on this project], the more I realize how grateful we all should be for their heroic sacrifice." – Sculptor Alfie Bradley
NORMANDY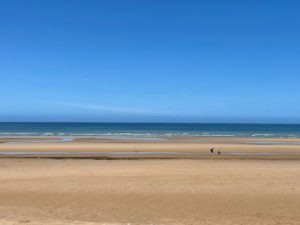 You have to stand on the beach here …which extends for miles in either direction…to even begin to imagine what it must have been like to scramble off a landing craft into to chest-high water…with perhaps 60 lbs. of gear on your back…and try make it across this expanse of sand to the questionable shelter of a two-foot high sea wall…while dodging a cross-fire of machine gun bullets. That's what thousands of men did 78 years ago. For us.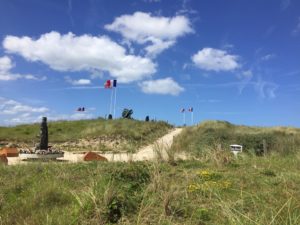 Utah Beach
US Navy Monument overlooking Utah Beach, Sainte-Marie-du-Mont, France.
The three figures represent officers, demolition units that went ashore, and shipboard sailors.
One the four faces of the base are inscribed the names of all the vessels that participated.
I especially wanted to find on the list LST-523, that hit a mine off Pointe du Hoc on June 19th with Richie Bartels (Aunt Rosemary's nephew) aboard.
The inscription reads: "To the officers and sailors of the United States Navy whose competence, courage and sacrifice enabled Operation Overlord, the greatest amphibious invasion in history. Their selfless cause was to destroy tyranny and restore freedom and self determination. The fallen will never be forgotten; the Veteran will ever be honored…."
Omaha Beach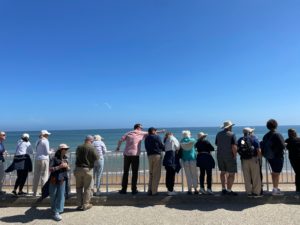 To look over Omaha Beach is a heart-stopping experience. To have hear an expert historian provide moment-by-moment commentary is a privilege. Traveling with Friends of the World War II Memorial, our group was led by Alex Kershaw, author of The Bedford Boys and The First Wave.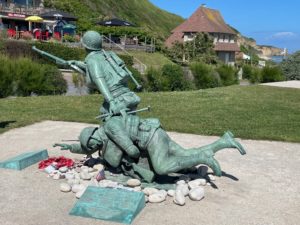 "EVER FORWARD"
In commemoration of the determined efforts by the soldiers of the 29th Division's 116th Infantry Regimental combat Team who landed the morning of June 6, 1944 on this section of Omaha Beach,…to open the Vierville Draw…to begin the liberation of Europe."

Our group had lunch at Hotel du Casino, overlooking this monument. Displayed inside was framed memorabilia, including a letter from Dwight D. Eisenhower thanking the proprietors of the Casino for a gift of chocolates. Clearly, he and Mamie had returned to Omaha… more than once.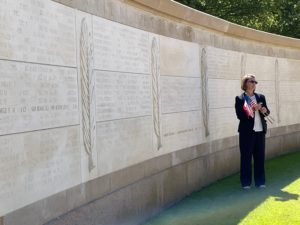 Collville sur Mer
At the Normandy American Cemetery, the semicircular Walls of the Missing are inscribed with the names of 1,557 Americans who lost their lives in the invasion of Normandy. My Aunt Rosemary's nephew, Richie Bartels, was just one of them.


PARIS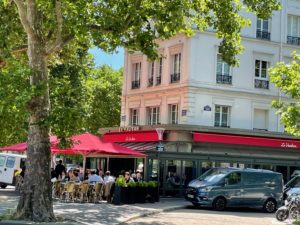 Lunch at a restaurant across from Les Invalides (, literally "House of the disabled") complex–museum, monuments, relating to French military history, as well as hospital and retirement home for military veterans). Architectural centerpiece and most spectacular building former Royal Chapel known as "Dome des Invalides," the tallest church building in Paris; it has been converted into a shrine to some of France's leading military figures; herein is the tomb of Napoleon.
We gathered for a group photo with the iconic Eiffel Tower as a backdrop…drove the length of the Champs-Elysees (familiar to all b/c of the Tour de France).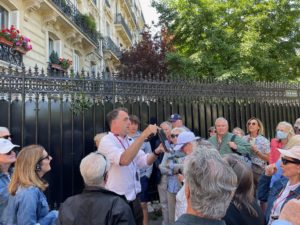 Last stop: #11 Avenue Foch.
Here during World War II American surgeon Sumner Jackson (of Maine), his French wife, Toquette, and their young son, Phillip, aided the Resistance while striving to escape the notice of Nazi and Gestapo leaders who had commandeered many of the neighboring homes. Their story is told in Alex Kershaw's Avenue of Spies. Just outside the Jacksons' former home, Alex summarized this heart-stopping saga for us. He also told of interviewing Phillip, who lived at Les Invalides as an elderly hero of the Resistance.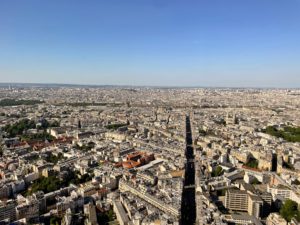 Grand finale:
Dinner at Ciel de Paris Restaurant
56th floor of Montparnasse Tower…
the City at our feet.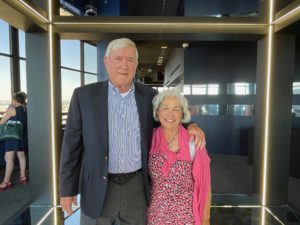 We had started out in London just a week earlier: Walked Grosvenor Square, Toured the Imperial War Museum, Churchill's War Rooms, D-Day Museums in Portsmouth England and then–after crossing the channel by ferry–in Normandy, stood in the historic square at Saine-Mere Egilise, walked the hallowed ground of Omaha and Utah Beaches, Pointe du Hoc, and the Normandy American Cemetery at Colville sur Mer. Then, on to Paris.
AFTERWORD
Our expert guide, Alex Kershaw, has researched and written the history of these places, interviewed many of those who lived that history. And so, we learned in a way that otherwise would never have been so informative, inspiring, and thought provoking. We learned that D-Day was not a single day, but an enterprise that had begun months (years) ahead of the fateful date of June 6th, and which did not end on June 7th. In fact, the truth is, in its impact on history and on the lives of countless millions…it has never really ended. Not has any battle. Or any war.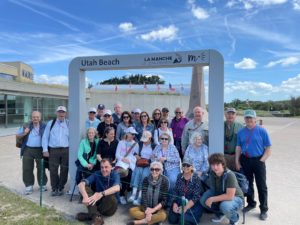 Despite the fact that so much of this experience immersed us in sadness, we truly enjoyed this experience from beginning to end. We ate well, stayed in five-star hotels (including a spectacular Chateau). If you have an interest in this history, the tour is being offered again next year by Friends of the World War II Museum. I kind of wish we hadn't just gone; otherwise, I'd be thinking about signing up!