Charles Norman Shay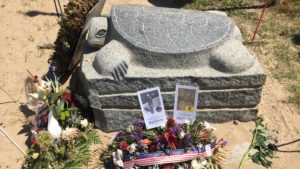 On Omaha Beach, at Saint Lauren sur Mer, France, a turtle-shaped memorial honors the 175 Native Americans who participated in the D-Day invasion. It is dedicated to Master Sgt. Charles Normand Shay, a much decorated veteran of both World War II and Korea. He was a teenager when he served as platoon medic for Fox Company, 2d Battalion 16th Infantry Regiment, which landed with the first wave on June 6, 1944. Shay saved many lives that day.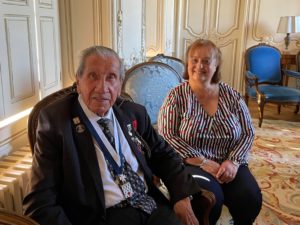 Imagine the surprise of all of us–traveling with Friends of the World War II Memorial–who had been at Omaha Beach that afternoon to arrive at dinner and discover Charles Norman Shay himself (now 98 years old), with his friend and caretaker Marie-Pascale Legrand were there to join us. What a thrill to meet this hero.
Charles

Shay believes that he is one of only two Native American combat medics to survive the war without any injuries.

"We were lucky. Call it what you want, fate, destiny, angels, spirits or God. All I know is that my mother prayed for me. There were mothers across Turtle Island [North America] praying for their brave sons. My heart breaks for those women who were never able to welcome their sons home again.

The Turtle Monument and accompanying plaque were erected in Saint Laurent sur Mer in 2017 as part of the week-long D-Day commemoration that take place every year in Normandy.

"Every Soldier who landed on this beach was a hero," Charles Shay has said. "We will not forget their sacrifices."

Marie-Pascale

Having done some writing for the website of the documentary The Girl Who Wore Freedom and having seen the film at least twice, I realized instantly, when someone at our dinner table mentioned (somewhat incredulously) that Charles lived with Marie-Pascale, that she was the woman in the film, who had known Charles for years over the course of his many trips back to Normandy…and when she found out that he had been widowed and was living alone in his home in Maine and had no one to care for him… traveled to America and brought him home to Normandy.

After dinner I spoke to Marie-Pascale, and she confirmed my instant impression, "Yes, that was us in the movie."

"You introduce yourself as Charles's caretaker," I said to her, "but in truth you are not his caretaker. You are his family.

She nodded.

Here is a link to her story.
https://thegirlwhoworefreedom.com/…/boys-of-pointe-du-hoc/

I hope it inspires you to watch The Girl Who Wore Freedom…and to ponder that time of the greatness…when Americans simply ignored their differences and differences of opinion and joined together for the common good. I keep hoping that we can find our way to do the same in facing the challenges that confront us today.