Mrs. Penfire–Ever Persistent

It's not easy trying to save the world. But Mrs. Penfire is persistent, if not entirely successful (as least, not yet).
"They're called trees!"


On Earth Day, April 22, the LA Times ran contradictory stories that set her jumping up and down on her keyboard. She was pleasantly surprised when that letter was published three days later.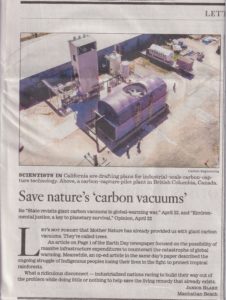 "Let's not forget that Mother Nature has already provided us with giant carbon vacuums. They're called trees.
An article on Page 1 of the Earth Day newspaper focused on the possibility of massive infrastructure expenditures to counteract the catastrophe of global warming. Meanwhile, an op-ed article in the same day's paper described the ongoing struggle of Indigenous peoples losing their lives in the fright to protect tropical rainforests
What a ridiculous disconnect—industrialized nations racing to build their way out of the problem while doing little or nothing to help save the living remedy that already exists."
"Drying up at a stunning pace"
Subsequent efforts have met with less success. An article about impending drought noted that "so far, there are no plans to turn off urban taps or launch a special public campaign urging people to conserve water." This foolhardy nod to our willful denial of reality here in SoCal sent Mrs. P back to her keyboard. She was disappointed that this time, the Times chose not to print her letter.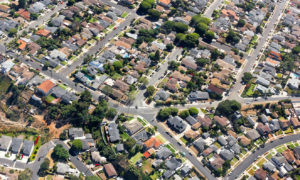 Why wait for mandatory water conservation directives? It's time to stop pretending we live in a place where green grass is normal. In fact, when you think of it, green glass is not really normal anyplace…except maybe Ireland.
Let's rethink our landscaping: use plants that actually belong here—California  natives. And turn off our home irrigation systems, especially the ones that send streams of precious water onto streets and down storm drains.  (And if you think fake grass solves the problem, forget it; artificial turf just makes things hotter, and ultimately ends up contributing to another environmental catastrophe: plastic pollution.
I've started educating myself. You can, too. With information from the California Native Plant Society: https://www.cnps.orgAnd on a website inspired by Doug Tallamy's book, Nature's Best Hope: https://homegrownnationalpark.org/get-started-1
We can save water—and the California that we love—if we try.
"Delighted?"
Closer to home, Mrs. P took a chance responding to a letter to the local paper that claimed the couple who were forced to abandon their successful oceanfront hotel should have been "delighted" because the 1924 seizure by eminent domain saved them from being "saddled with a resort during the Great Depression." In her haste to fire off her letter, though, our indomitable campaigner for fair play and common sense made a slight error in her numbers, as noted below. Alas, The Beach Reporter chose note to publish this letter: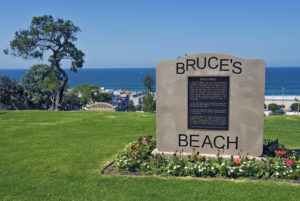 Mary Ann Millar (Letters, June 17) thinks Willa and Charles Bruce must have been "delighted" with the $14,225 the City of Manhattan Beach paid them for their waterfront property.

 She seems to believe the Bruces knew, in 1914*, about the stock market crash that was to occur fifteen years* into the future. If they actually had that kind of clairvoyance, why would the Bruces have opened a resort in the first place? They could have become rich telling fortunes.
There's no way to know how the Bruces' resort would have fared over the years. In a quick online search I found listings for numerous old hotels and resorts along the California Coast that survived the Depression and are still in business today.
Facts are facts. The Bruces were hounded out of Manhattan Beach because of their race. Not all acts of discrimination are so well documented. Since this one is, an apology from the City would confirm our community's commitment to doing better. That, to me, would feel a lot better than pretending this act of overt racism should have "delighted" its victims.
NOTE: *Mrs. Penfire was mistaken. The eviction of the Bruces' took place in 1924, ten years after they had purchased two lots fronting the ocean and built a hotel and dance hall offering rare access to a seaside vacation for Black Americans.
PHOTO CREDIT: David Zanzinger
What next?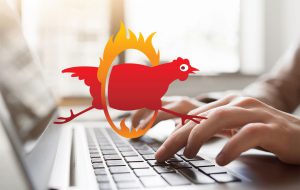 Every day, the news seems to light new fires under Mrs. Penfire's hen house as she reads the morning papers. Who knows what topic will catapult her into action next!