Christos Anesti
"Christos Anesti."
"Christ is Risen."
It is Easter Sunday.
But today is like no other Easter Sunday I have experienced.
No Easter eggs. No church…overflowing with people dressed in crisp new outfits, bright spring colors. No abundant cascades of fragrant flowers. No Easter lilies. Pots of bright tulips. No choirs singing. No hymns. No Holy Communion. No family gathered around the dinner table. No roast leg of lamb. No lemon chiffon pie.
But we did receive two wonderful Easter gifst. Andrea Bocelli's Easter Concert: Music for Hope, live streamed from Milan's spectacular Duomo. And a sermon from our friend Sam Rodman, Bishop of the Episcopal Diocese of North Carolina. And we decided to switch out the Hidden Picture items in our front yard for some improvised  decorations more appropriate to the day.
My earliest Easter memories are of the long drive from our little house in Milton Massachusetts, to my Uncle Faris and Aunt Madeline's solid brick home in Lawrence. There would always be a stop at my Aunt Margaret's…through a dark foyer and up narrow stairway…to simple, immaculate apartment my mother referred to as a "cold water flat"…close by the mills, to pick up my grandmother, who lived with her daughter, my father's sister. (Decades later, when we visited The Tenement Museum in New York City, I recognized it as being, in its essence, the same place.) Grammy Marad and Aunt Margaret were still working in the mills, then, in the early 1950s, as they had always had—Grammy since she was brought to America by her much older husband as his second wife a few years prior to World War I, and Aunt Margaret, since she was a very young girl, in the early 1920s.
At Aunt Madeline's all was warmth and comfort–lace antimacassars on the furniture, much fancy bric a brac, dishes of sugar covered almonds in pastel colors, an imposing mantelpiece, and above it an elaborately framed portrait of my cousin Henry in his Air Force uniform. The family was still openly grieving Henry, only 21 when he was killed in a flight training accident during World War II.
At Aunt Madeline's there were many hugs and kisses from all the aunts and cousins, an infinite supply of candy for us children who were allowed to run up and down the long hallway that separated living room, dining room, kitchen from all the bedrooms. At dinnertime a stream of magical and, to us, unfamiliar Syrian food emerged from the tiny, steam-filled kitchen, and in the center of the table, always, a giant bowl of red Easter eggs.
Eventually, those treks to Lawrence on Easter stopped. Instead, we stayed at home, finding and re-hiding and re-finding the same dozen hard-boiled eggs we had spent the afternoon decorating the day before.
Once Mr. Penfire and I married and started a family of our own, we were invited to join our friends and began a new Easter tradition. Blessings and "buon appetito" from their family priest. Crabmeat dip. Leg of lamb. Rice pilaf. Asparagus with hollandaise. And a cavalcade of elaborate desserts. Easter egg hunts. Convivial conversation. And laughter.
Fortunately for us, we had other close friends who celebrated Greek Easter, nearly always on a different Sunday, and so with them, we celebrated a second Easter, with more good food—spanikopita, a whole lamb (not just a leg) roasted outdoors on a spit built over a specially constructed fire pit—many side dishes, many desserts, and always my favorite kourabiedes (Greek butter cookies). With many boys in this family, the afternoon always includes some kind of touch football or a softball game, or both. But the fiercest competition would always come around the table. And this is where I learned the red eggs on my Aunt Madeline's table those barely remembered years of my earliest childhood were an Easter tradition for Orthodox Christians.
But my Syrian relatives, as far as I know, never ended the meal with the same tradition, involving the red eggs, as our Greek friends. It went this way: At the time end of the meal, everyone took one of those hard-boiled eggs in hand. The first to begin (and I'm not sure how the starting honors would be decided) would tap the "fat" end of his (or her) egg against the "fat" end of the egg of person beside him (or her) and proclaim, "Christos Anesti!" ("Christ is Risen). The person whose egg did not break would continue, turning to the next person, and repeating "Christos Anesti!" Thus the chain of proclamations would continue, all around the table, the person with the unbroken egg continuing…or picking up the chant… until, in the end there was only one unbroken egg left. (To be honest, with a room full of high energy young boys, the scene was not quite as solemn and orderly as I my description might suggest.) And now that I think of it, I don't think there was any particular prize for having that last unbroken egg. Nevertheless, it seemed important at the time.
"Christos Anesti!" the gathering would shout in unison. And then… all the eggs would be taken to the kitchen. Were they then converted into deviled eggs that would be passed around for all to share? Probably not. More likely they were the next day turned into egg salad sufficient lunches for the rest of the week. Because, let's be honest , who would want to be eating deviled eggs after a big dinner—especially when there were so many cakes, pies, and pastries to be shared?
"Christos Anesti!"
It's a glorious proclamation.
He who was dead is, miraculously, alive.
A nature echoes the miracle. A natural world thought to be lost—a wasteland of barren earth and leafless trees, a bleak world, cold and damp was suddenly being transformed. A carpet of bright green grass. Colonies of flowers—white snowdrops, giving way to carpets of blue scilla, armies of yellow daffodils. Meanwhile bursting buds emerged to become bright green leaves on most trees. But on some, wwaths of blossoms burst forth instead.
Life resurgent after a harsh winter.
New life.
New hope.
New beginnings.
A fresh start.
And THAT is the promise of Easter. Even this Easter, which is so different from every other we have ever experienced.
May it be so.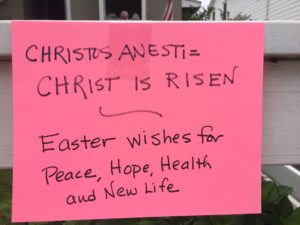 Last night Mr. Penfire and I watched a movie, The Two Popes. Its message was so much more than I had expected. Not just a look back at the events of 2013. But, surprise us, a message for today: 2020. A reminder that each one of us cannot be satisfied simply with protecting our own health, safety, wellbeing or that of our small circle of family and closest friends. But a challenge to remember that the world is our family—that we cannot, must not, ignore the suffering of others simply because they are far away.
The entire world is suffering this Easter.
Many are dying. But many more are surviving.
When these dark days are behind us…. When we come out of our locked down lives…let us make the most of our opportunities to no longer be locked down. Let us open our hearts to those who are less fortunate than we are.
Let's make this, truly, a time for new beginnings.