376 Brush Hill Road – Part XII – The Loew Estate
Across the street from us, where Smith and Brush Hill Roads meet, was a fieldstone wall that stretched as far as the eye could see, in both directions; it enclosed a vast pasture studded with big, big trees. This marked the northwest corner E.M. Loew's twenty-five acres–The Loew estate. We often saw sheep and cows wandering this pasture, happily nibbling on the grasses and clover that flourished there. Just think, in the days before lawnmowers were invented, this was the only way to have "a lawn." Thus, vast lawns became a symbol of prosperity!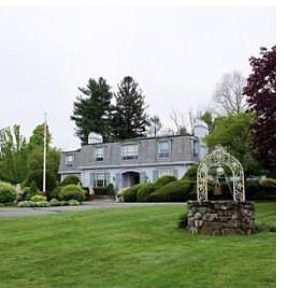 Incidentally, E.M. Loew was not the only legendary tycoon in the neighborhood. In a far less imposing, yet nevertheless impressive, property, lived Howard Johnson, who, it was said, gave out giant candy bars on Halloween. His house was a bit boxy looking with an unattractive mansard roof–an untalented architect's attempt to make it look like a French chateau. It sat back on Metropolitan Avenue (#1063) on a vast lawn, meticulously manicured.
Not living amid manicured lawns and not giving out giant candy bars to trick-or-treaters was E. M. Loew. I recall once seeing Mr. Loew out in that pasture in his slippers and a navy blue bathrobe in deep discussion with a man who was obviously in charge of the animals. They were standing near a cow—or was it a ewe?
Even more vividly, I remember the morning that eight or ten fat, very healthy looking cows came ambling up our driveway. We children were more than excited. My mother was pretty matter-of-fact about the situation. There was obviously only one place they could have come from. Perhaps they had wandered this way before…on days when we were in school. She headed for the telephone table in the front hall, made a call, and soon a man came to lead the little herd home.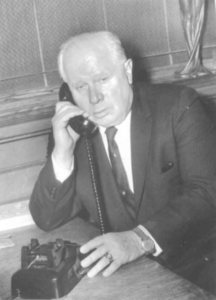 E.M. Loew was a legend. Over time, as we learned more about him, the legend became increasingly colorful. Mr. Loew owned a chain of movie theaters, the Latin Club in New York (which, by the way was managed by Barbara Walters' father; she grew up in Brookline and  graduated from Brookline High School). He also owned Foxboro Raceway (now home to he vast complex that comprises the home of the New England Patriots).
Mr. Loew lived in the twenty-five room Georgian mansion that that anchored the property (formerly the Peabody Estate, I recently learned) with his ex-wife and their daughter. Apparently, the house was large enough to for this semi-amicable arrangement to work.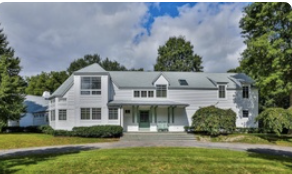 The imposing house (and gracious carriage house behind) stood at the crest of the hill limned by a quarter mile long tree-lined driveway. The driveway's entrance was more than half a mile down the road from us, at the other end of the property's Brush Hill Road frontage. Guarding that entrance were two stone lions, which, we had been told, at one time had graced the concrete plinths on either side of the brick steps here at our house. I don't know whether to believe that one or not.
We never saw the limousines that brought celebrities to and from the Loew house, but we heard, via neighborhood scuttlebutt (don't ask me how it traveled) when Zsa Zsa Gabor was there.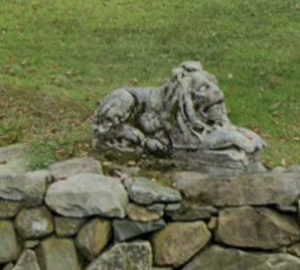 The lions also marked the place where the driver of our school bus stopped to let Sascha Loew off every afternoon. One day, however, the driver was hesitant to open the door. There was a slim mustachioed man, elegantly dressed, leaning on the wall beside one of the lions. The bus driver glowered suspiciously. "I can't let you off with that man standing there," he said.
"It's okay," Sascha stated brightly. "That's just my mother's boyfriend."
My most dramatic experience involving the Loews was attending Sascha's birthday party.
Until that point, my experience of birthday parties had been pretty low key: some games (pin the tail on the donkey, musical chairs); cake, candles and the singing of "Happy Birthday;" a little paper cup (with fluted paper skirt and a handle) filled gum drops; then opening of presents; and a ride home.
For Sascha's party, as usual, I did not have a fancy party dress to wear—just my best school jumper (gray tweed) with a white blouse. Mary Anne walked me down the street and up the driveway (bravely marching past barking German Shepherds). At the base of the front steps she waited as I rang the door bell, clutching the coloring book and crayons that my mother (or maybe my sister) had wrapped in gift paper. I was to call when it was time to come home and someone would come to get me.
Stepping into the foyer of the Loew mansion was like stepping into another world. In the middle of a reception are  that made our front hall look small. A wide flight of stairs led to a landing; from there two flights—one to the left, one to the right—seemed to float their way to the second floor, with its curved balcony that overlooked the foyer below.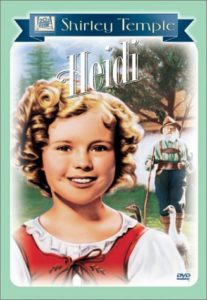 We children were led to a huge room behind the staircase. Was it originally intended as a massive drawing room? A ballroom? No way to know for sure; what I remember is, on the far side a mirrored wall and (towards the back corner) a massive grand piano worthy of Liberace—white with much ornate carving, every curlicue shining with gold leaf. Across the front of the room, a full-size movie screen. (Was it hidden by a velvet curtain when not in use?) We children—a pretty large group: fifteen or twenty of us—were seated on the floor and for the next hour and a half were spellbound by Shirley Temple as "Heidi."
After the movie we were seated at a table in the white, paneled, dining room under a glittering where food (perhaps little sandwiches? definitely not pizza) was served, then and cake and ice cream. After that we were led to yet another room, this one a sitting room paneled in honey-colored wood, for the opening of gifts.
Oh, my! Suffice it to say, I was the only girl there not in a frilly pink party dress. And my gift looked so incredibly small and innocuous next to all the others.
Many gifts were in envelopes: Savings bonds? Cash? I'm not sure. What mesmerized, amazed, and shocked me was that Sascha's mother, Sonja Loew—beautifully coiffed, fully made up and generously bejeweled (for Sascha's mother was just as legendary as her father)—kept making colorful comments and stuffing all of these bills and bonds down into the front of her very low cut black V-neck dress. (For a ten-year-old whose own mother was letting her hair go gray, wore no makeup except lipstick, and whose wardrobe tended toward pleated skirts, blouses and cardigan sweaters, this was all quite astounding.)
Sascha opened one large elaborate gift after another, setting each one aside until, inevitably, she came to my small, unimpressive package. I don't know how or why (was it possible she had never owned anything so ordinary as a coloring book?) she responded with delight as she opened the book and the box of crayons, then she laid down prone on the carpet and began coloring. I was astonished!
As the party wended to a close, I asked where to find the bathroom (just around the corner from the staircase, to the left) and the telephone (on a table in the front hall).
The bathroom, with its sloped ceiling, was actually tucked under the landing in the staircase. I had definitely never been in a bathroom with red wall-to-wall carpeting before.
On the table in the front hall, I found, there were two telephones. One was gold. The other, the standard black I was used to. Well, what child, faced with such a choice, wouldn't pick up the gold phone?  However, when I put it to my ear, I realized it was already in use. "I'm on the phone. Hang up!" a male voice growled. I slammed the receiver back into the cradle. As quickly as I could, I lifted the receiver on the black phone and  called home. "Come and get me!" With that, I scurried back to the gathering. No sooner had I managed to melt back into the cluster of children than E.M., himself, loomed in the doorway.
"What's the big idea of listening in on my phone calls," he demanded of his ex-wife. Her protestations fell on deaf ears. A few unpleasant words were exchanged; then, he turned on his heel and stormed off.
Needless to say, I was horrified, mortified, and terrified. This  massive mansion that at first seemed magical now felt like a scary place. All I wanted to do was be back in familiar territory, a place that was unfancy, and unglamorous, and comfortable. Home.
I found my coat, let myself out the front door and stood on the steps until our family car pulled up and stopped. I leapt in. Was it my mother or my father who had saved me from this strange place and the wrath of E.M. Loew? I don't even remember. I was headed home.