The Neighbors – 376 Brush Hill Road – Part XI – The Neighbors
The Bachelors
Our nearest neighbors, to the north, in a modern glass-fronted ranch house, were two men known to us as "the bachelors."
I have memories of one of the bachelors working with my father, occasionally, on projects that crossed the property line. Were they trying to eradicate poison ivy…or just raking leaves? Maybe both…at different times.
The "bachelors" were not really bachelors, a fact made clear only years later when my husband began carpooling with one of them. But that is a story for another day.
The DeCarlis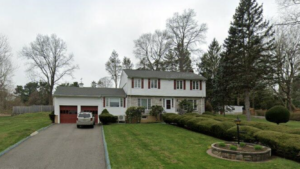 One house down from the bachelors, who lived on the corner of Brush Hill Road, and Valentine Road, were the DeCarlis (at 31 Valentine Road). Their backyard was separated from ours by the stone wall that ran along the north border of our property.
Mr. DeCarli (Arthur) was a gruff, intimidating man; his wife, Val, was a tiny super-energetic woman. I never saw without make-up that brings to mind Elizabeth Taylor in Cleopatra. The DeCarlis' huge backyard was designed as a playground for their five children, with a paved tennis/basketball court and an in-ground swimming pool. Mr. DeCarli maintained his grounds to a state of obsessive perfection. In fact, I was horrified when my father gave him permission to cut down the  spectacular old weeping willow in our yard because it overhung the pool, and its leaves clogged up the filter. (Even today, you can stand in front of the DeCarli's house and see the space in the row of trees behind the house, where that tree was taken down.)  Mrs. DeCarli was a meticulous, hardworking housekeeper, a fabulous cook, kind and generous. (She once asked my mother if she could pay me to help around the house; the only task I can remember is "cleaning" the ceramic tile wall in the kitchen. But the wall was already so clean, I couldn't really understand what I was supposed to be doing. But I wiped it all down, as directed, and she paid me.) What did I love best about having the DeCarlis as our backyard neighbors? In nice weather, with windows in both houses wide open, we often heard Mrs. DeCarli singing Italian opera as she went about her day.
The Chipmans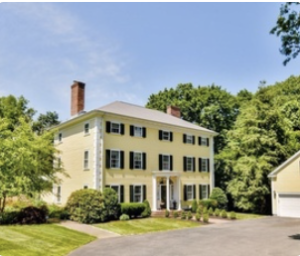 Across from the bachelors, on the north corner of Smith Road and Brush Hill Road, were the Chipmans—a family of ten well disciplined children, a stern father and a sharp-featured mother who looked too thin, too quiet, and plain old worn out.  Their house was a spectacular but down-at-the-heels three-story Federal-style mansion, with a front lawn, turned hayfield of at least an acre. It was set far back from the stand of super tall pines that completely enclosed the property.
The Hollingsworth Estate
Beginning at the edge of the Chipmans' property and running all the way down Brush Hill Road, then turning the corner and running along Truman Parkway for a bit was a tall, thick, fieldstone wall, distinctive because so many of the stones were pink. It appeared to have a horizontal dividing line, suggesting that it was at one time lower and a second level had been added to make it higher. Behind that wall, a jungle of weeds and briars. And standing in the midst of these, set very far back from the road, a massive old mansion, with multiple chimneys–and wings on either side. The structure looked like it might be crumbling; it was colorless, possibly gray. We kids thought it was haunted. Nobody I knew ever ventured onto the property.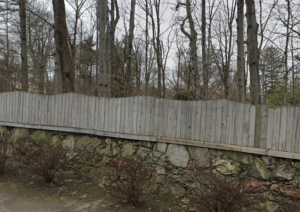 There were three breaks in the Hollingsworth wall on the lower end of Brush Hill Road, giving access to three modern homes that definitely did not look haunted.  On the opposite side new houses lined the road–from the base of the hill up to, and including the bachelors' house. The parcels these houses had been built on…and all the land between this stretch of Brush Hill Road and Blue Hill Avenue… had once been owned by the Hollingsworths. And that's why the three residential streets that developed on this acreage are named  Amor, Valentine, and Hollingsworth Roads. Amor and Valentine (such romantic monikers) were the scions of the Hollingsworth family whose fortune can be traced back to the founding of paper mills on the Neponset River. In fact, the current iteration of those mills still prosper today as a privately held company: Hollingsworth & Vose.
Smith Road
With the tall, thick hedge of yews, the stand of rhododendrons, the giant, perfect oak tree, and a wall of tall hemlocks, along shielding the house at 376, our only peek of the road and the cars that occasionally drove by was framed by the cedar trellis at the end of the front walk.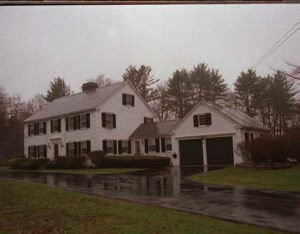 We could look straight up Smith Road to where it turned at the big white Colonial at the corner–home of Dr. Miller and his family. My  brother recently informed me that the Millers always offered a tray of assorted full-size candy bars to trick-or-treaters to choose from. (And back then full-size candy bars were big!) Why did I not know this? Because I always went-trick-or-treating with my friends…in neighborhoods where houses were much closer together and you could collect a lot more candy with much less walking.
Beyond that house was the Heflers–a huge rambling place with lots of porches and gables; its shingles (after all, it was a classic shingle-style structure) were severely sun-faded. "Gerry Hefler," the doyenne of the place was the real estate broker (perhaps only for neighborhood properties) who had arranged for the sale of the Crosby House to my parents (they knew her from the Wollaston Golf Club, I think). I remember her as being a somewhat frazzled looking old lady with reddish brown hair (that likely would have looked better in its natural gray state) and crookedly applied bright red lipstick.
The Hefler property was extensive–at least three or four acres. Behind the house, a very large vegetable garden, where I saw for the first time eggplants growing on the vine. Down the long unpaved driveway was a huge barn, where Mrs. Hefler's daughter, Ann Williams, a veterinarian, kept her horses. Beside the barn, a large paddock enclosed by traditional white fencing.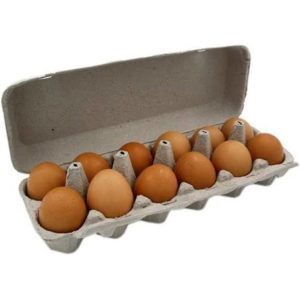 Within or beyond the barn a chicken coop that must have held a good number of chickens, for Mrs. Hefler's son, (I'm pretty sure his name was Jim) soon became our "egg man." He would delivery eggs once a week, and my mother would save the empty egg cartons on top of the refrigerator, and gave them back to him, so they could be used over. (Recycling was routine in the 1950s.)
Ann and Tommy Williams, with their three young children, lived in a classic Cape Cod style house, well behind Mrs. Hefler's (there may have been other siblings besides Jimmy and Ann, but if there were I never knew about them–or else can't remember). I was soon recruited to babysit for the Williams kids, and I babysat fairly often. I was never picked up or driven home. Always, I would cross over to Smith Road, scoot through the trees and shrubbery that ran bordered the Chipman's property and emerge on the Williams front lawn right next to the big vegetable garden, which I assume was the project of Jimmy Hefler, "the egg man."
For some reason, Mrs. Williams thought I was a wonderful sitter, and told my mother so. But I don't know why. I did, for sure read  The Cat in the Hat to Freddy, Michael, and Joanne, before they climbed into bed when I was babysitting at night. And I always made sure I cleaned up any dishes in the kitchen sink. But when I was there in the afternoon, the children would be outside playing and I would lie on the couch in the Williams' living room reading the latest editions of the McCall's and Ladies Home Journal. I always made a point of reading Eleanor Roosevelt's "If You Ask Me" column (McCall's) and "Can This Marriage Be Saved" (LHJ). Pretty entertaining reading for a pre-teen.
(Brushwood Estates)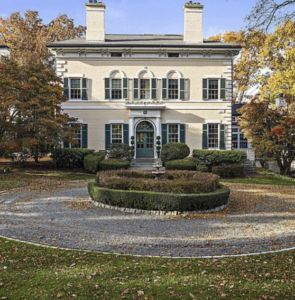 Over the years, since my mother sold our house on Brush Hill Road, we lost track of the neighborhood. But we did hear, through the grapevine, when a move was afoot to circumvent the Town's zoning restrictions by joining the acreage of the Hefler property with the acreage of the Hollingsworth Estate in order to develop a gated condominium complex. This scheme has long since become a reality. And it's certainly fun to click on the address of these "Brushwood Estates." In addition to a good number of freestanding homes, there are units in the spectacularly restored Hollingsworth mansion…which no longer looks haunted.
The Marcellinos
Our nearest neighbors to the south, along our side of Brush Hill Road, lived in a large, handsome Colonial style house. We knew their names were the Dempseys. However, like the neighbors in the white brick colonial on Smith Road, they remained unseen. Beyond the Dempseys were the Marcellinos at 434 Brush Hill Road. I met Lora Marcellino at Catechism class at St. Mary of the Hills. (She went to Thayer Academy, and I went to Pierce–the public school). I'm not sure when, exactly, we discovered we were neighbors, when or how it was arranged—by us or by our mothers–but we began walking home from Catechism together. And soon became fast friends. Sometimes, on the way home, we would take detours. I remember walking in the deep tire tracks of earth moving equipment  that crisscrossed dark loamy where thick woods had previously flourished. Those woods were being transformed into house lots, and the residential street that would soon become Amor Road. We also explored houses under construction. I distinctly remember walking along the  the concrete cellar of 10 Hollingsworth Road, oblivious to the danger of using these floor joists as balance beams.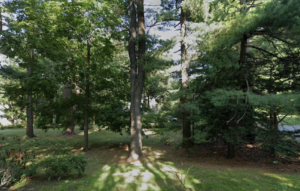 I always loved spending time at the Marcellinos' house—so different from ours in so many ways. Lora's mother (stepmother, actually), so much more glamorous than my own, often spoke disparaging of the house as "this modern thing." I look now, and see that it was built in 1936—not so modern, after all. Once the two of us went off to different high schools, Lora and I drifted apart. Around the time I graduated from Milton High (and Lora, presumably from hers), the Marcellinos' property was subdivided. The graceful driveway that sloped towards the house from the edge of the property nearest the Dempsey's disappeared. A new shorter, wider, less gracious drive cut a straight shot from the road to the front door of 434. And on either side of that new drive, sprouted two split level houses that were almost, but not quite identical.
The Meadow
When we first moved into 376, there were only four houses between ours Robbins Street–the Dempseys, the Marcellinos, the Benjes at 504, and the charming new house at 520 Brush Hill Road; my guess is that its two acre corner lot had been recently sold off from the Benjes' property. The twelve and more acres that became Meadowview Road were…back then…just a meadow. My mother said that land had been owned by Dr. Heffernan. He and his wife were friends of my parents; the four of them had played golf together; and he was the doctor that had delivered all six of us.
The Benjes … and the Martins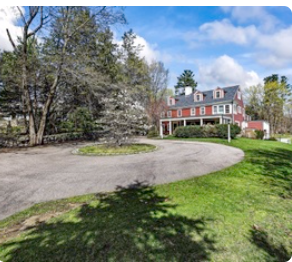 Beyond Dr. Heffernan's meadow,a long narrow driveway led to the Benjes house, set so far back that only its gables and chimneys were visible from the road. A very large house on a very large parcel of land. The Benjes' son  (I can't retrieve his first name from my memory bank) was in my grade, but he didn't ride on the school bus; after sixth grade he went off to private school.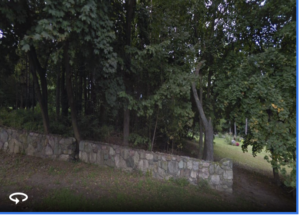 And I began babysitting after school for the Martins. They lived in the that big barn that had originally been part of the Benjes' property. Converted into a house,  it definitely retained the rustic feel of a barn. Mr. Martin picked me up after school in a very small (definitely foreign) station wagon  (visualize a Mini-Cooper encased in real wood ).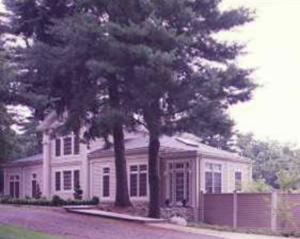 William Barriss Martin was an artist, a sculptor who worked in metal, creating massive pieces. His studio was the converted carriage house, which like the transformed barn had originally been part of the Benjes' property. The Martins' house (barn) and studio (carriage house) were accessed by a rutted and and unpaved driveway; its entrance was on Robbins Street.
Mrs. Martin worked as a bookkeeper (somewhere in Boston), and so the couple needed a babysitter to keep and eye on their three young children after school. But did I keep an eye on the children? Probably. Yet, here, as at the Williams's, reading was a distraction.
An entire wall in the Martins' living room was completely covered with bookshelves. So of course, I spent as much of my babysitting time as possible paying no attention to the children–and reading. I remember that I started reading Andersonville (Mackinlay Kantor's Pulitzer Prize-winning novel)  …and wanted to finish it. But when I went looking for a copy at the Library, Miss Shaw, the Head Librarian (memorable for her cranky disposition, shin-length dresses, and the hairnet she always wore) was extremely suspicious and disapproving. Scowling, she asked why I wanted to read it. My reason apparently satisfied her, as this book, she told me, was kept in a locked cabinet. (Why?) She got it for me, but made it clear she was reluctant to do so.
Changing Times
Within a few years of our move to Brush Hill Road, changes came fast and furious. Despite the fact that my mother instructed us to knock down the "For Sale" sign nailed to the oak tree out by the road (Makes it look like our house is for sale," she said), the orchard and meadow once part of the "estate" at 376 were sold off– separately. And the new houses built on those lots changed the character of the property immensely.
The split-level home that popped up on the former meadow (396 Brush Hill Road) looked completely out of place among its more stately neighbors.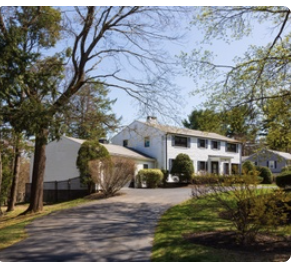 Then came Nathans' mini-Tara at 388. Its construction necessitated the destruction of the apple orchard (of course.) Their driveway cut a swath across what had been our front yard. So instead of looking out from our front porch and seeing the front lawn and flagpole, the border of flowers and behind that huge rhododendrons, we now faced, close-by the giant Hatfield yews that used to form the hedge the far side of the rhododendrons, along Brush Hill Road. That hedge now marked the border between our (now-tiny) front yard and the Nathan's driveway. That left the new house and its semi-circle driveway, lawns and landscaping on proud display–a new style of landscaping principle, in sharp contrast to the old school obsession with privacy so typical of older homes along Brush Hill Road.
For us it was good-bye rhododendrons, daffodils, and flag pole; good-bye apple orchard; hello Hatfield yews. With its roots damaged beyond repair, the gorgeous, giant, specimen oak tree that had been the focal point of our view when sitting on the front porch gave up the ghost–eradicated from sight, but not from memory.
My Map Made from Memory
It's obvious here why I became a writer and not an artist!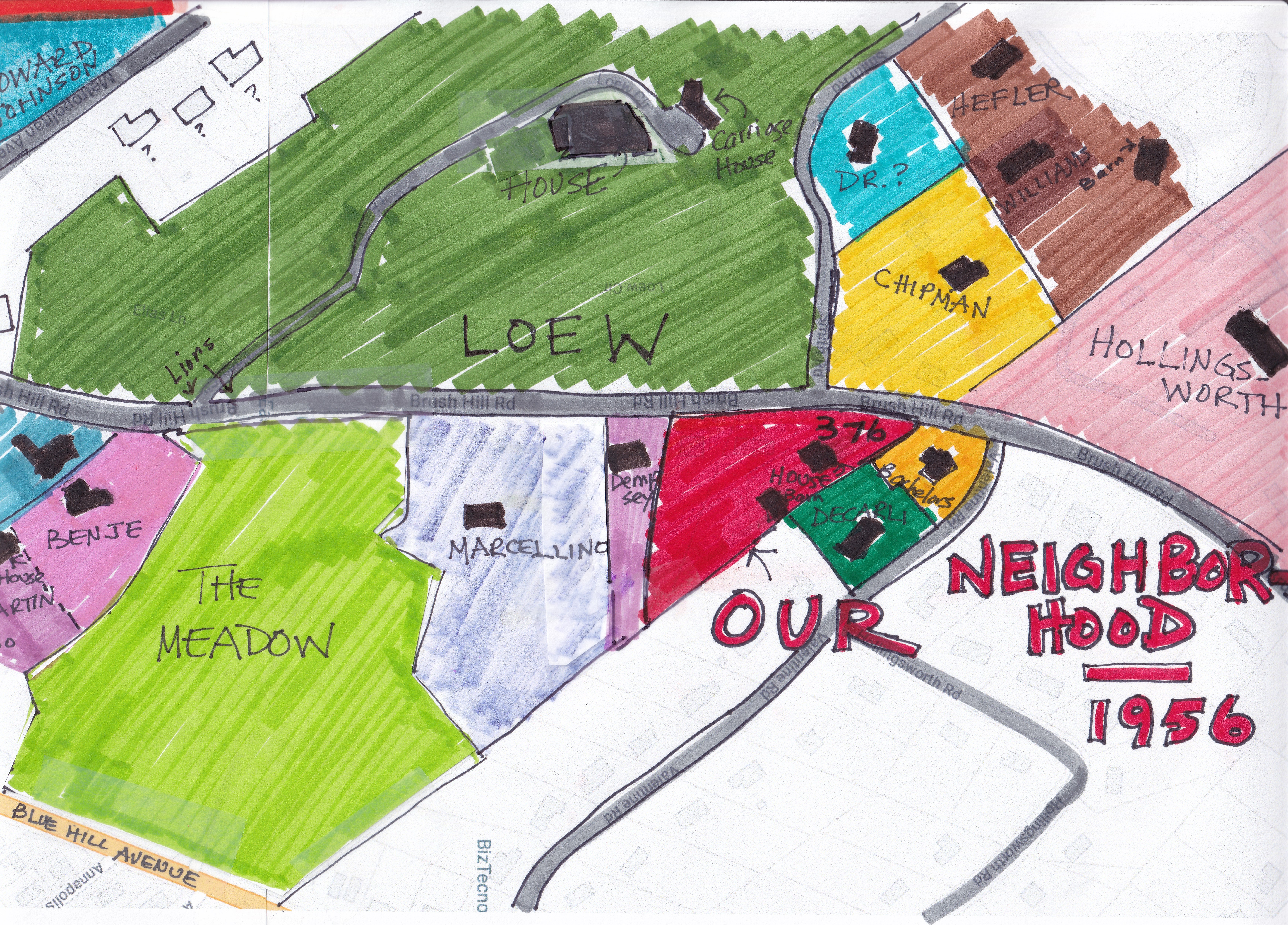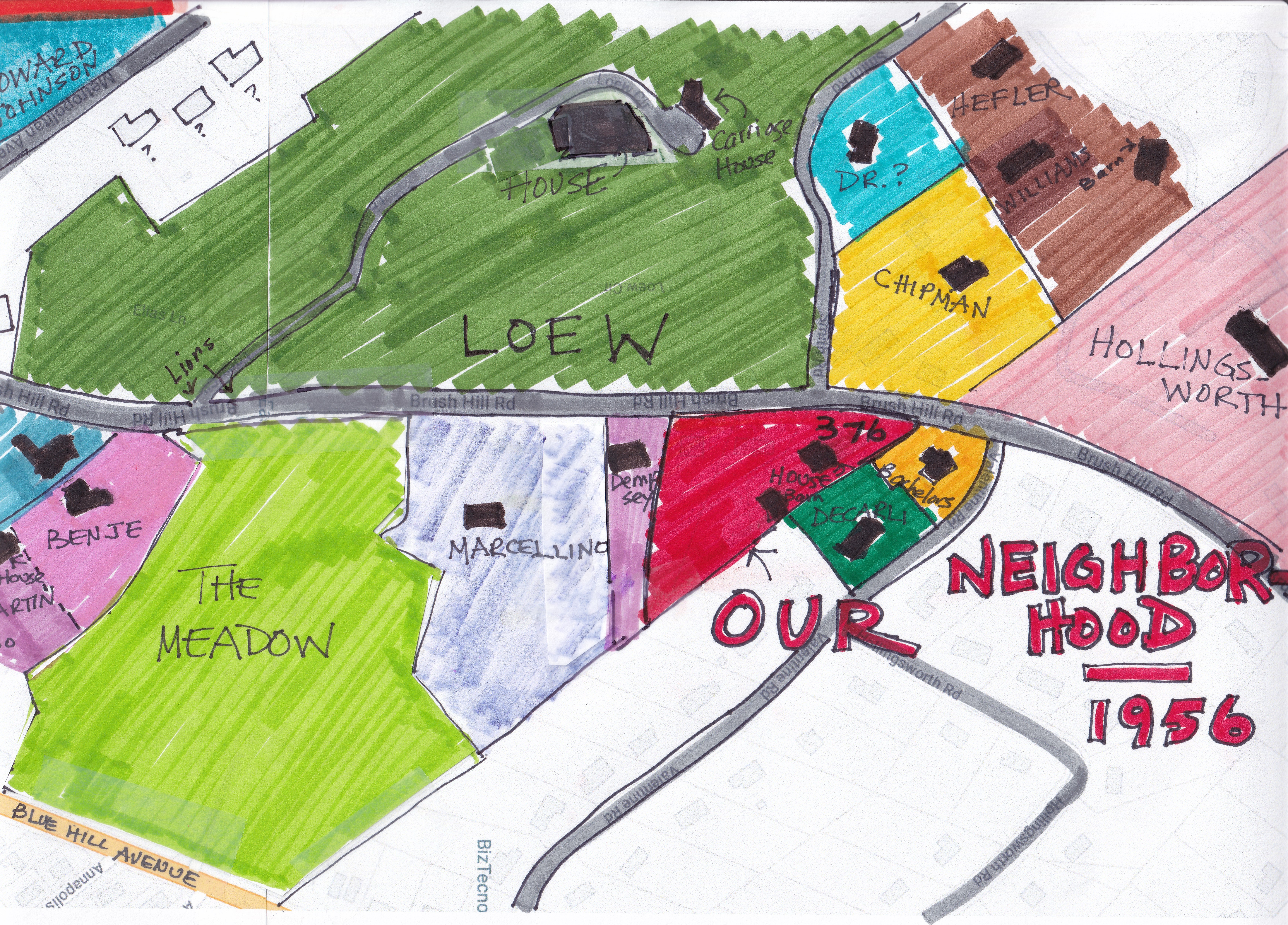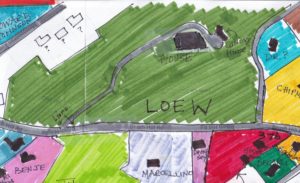 Please note: The map was made before my brother scornfully reminded me that it was Dr. Miller who lived at 55 Smith Road–not Dr. ?.