V-E Day, May 8, 1945
My Uncle Joe joined the US Navy for a six-year hitch in August of 1940. He served on USS Wichita, a heavy cruiser, USS Redwood, a ship that installed and serviced anti-torpedo nets, before applying to become a lighter-than-air sailor. He was accepted into the program and assigned to Blimp Hedron #1, Lakehurst (NJ) Air Station. During a winter storm in the early months of 1945, Joe miraculously survived a terrifying fall when he got tangled in the lines of an ice-laden blimp coming in for a landing during a winter storm.
Recently released from the hospital, AEM2C (Airman Electrician's Mate Second Class) Joseph P. Flynn was restricted to "light duty." He was not allowed to work on landing crews… or do any of the maintenance tasks that required climbing aloft and working from a bosun's chair. No changing light bulbs atop the superstructure of an airship for a while.
Thus Joe spent a lot of time in the workshop, often talking to Carlson, Chief of his unit, an experienced old salt who had been in the Navy for twenty years. Carlson was poring over the schedule for the upcoming week. Joe on a bench nearby, was waiting for his next task to come along. He was beginning to get used to this new, slow pace.
An officer strode into the shop. "Who's your best man," he demanded.
The Chief nodded towards Joe. "He's sitting right over there on that bench."
"Okay, what's his name?" the officer asked. "He's going to England."
"Well, his name is Flynn. But he can't go anywhere," Carlson replied. "He's on light duty."
"We'll see about that," the officer barked. With that he turned on his heel and left.
Before too long, the shop's phone rang. Carlson answered, then turned to Joe.
"Well, looks like you have to go and see the Doc." With that, Joe knew his goose was cooked. In the Navy, as every sailor knew, if you could walk into sick bay, there was nothing wrong with you.
Sure enough, the doctor looked a Joe, poked here and there, then said, "I see nothing wrong with you. There's no reason why you can't go to England."
Joe walked slowly back to the hangar and told Carlson what had happened
"Sure, he thinks there's nothing wrong with you," Carlson scoffed. "What does he know? He's a baby doctor from Hyannis!"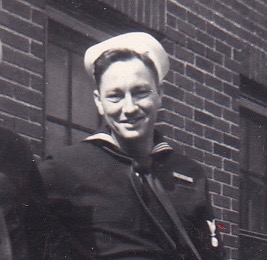 Within days, Joe was in New York, back at Pier 92, where, back in the summer of 1941, he had helped begin its conversion from Italian cruise doc to receiving station for sailors who needed temporary billeting between assignments. Now it was a bustling U.S. Navy installation, swarming with sailors who, like him, were awaiting transport to England.
Joe knew he could be nabbed by just about any officer for duty that could be anything from unpleasant to miserable. He also knew his hash mark , which indicated he had been promoted and therefore was a capable, reliable guy, put him up a notch in the eyes of any officer.
He decided to be proactive and looked around for the Chief Master at Arms. "Chief, do you need a man?" The Chief did, and Joe was assigned to Security; he was placed on Shore Patrol.
"Do you have leggings?" Joe did.
He was given an armband and a nightstick and the next morning, dropped off at Rockefeller Center.
A crane had just lowered a model "island" to the lower Plaza (usually used as a skating rink), and over the next couple of days more parts and pieces arrived on trucks from the Brooklyn Navy Yard.

The Navy had built a huge wooden model of a 27,000-ton Essex-Type aircraft carrier, dubbed "The Fighting Lady. " The model, 103 feet long with a flight deck 16 feet wide was the largest true-to-scale ship model ever constructed. It was to serve as the centerpiece for the sale of War bonds.
Joe's job was to guard the model. "All I had to do was look smart and wear a badge," he said afterwards.
But after just a couple of days at this station, Joe heard a tremendous racket coming from the direction of Times Square.
"It sounded as though thousands of people must be in the street," he recalled. As soon as his replacement came and he was relieved of duty, Joe headed over that way, and sure enough there were thousands of people in the street. People were rushing everywhere. Everybody was cheering, shouting, crying. It took only a glance up at the New York Times ticker to see why. Germany had surrendered. The war in Europe was over.
I always loved hearing Joe tell this story. And every time he retold it, I would ask teasingly, "Uncle Joe, were you the sailor kissing the nurse in that famous Life magazine photo." He always laughed, shook his head bashfully, and said, "No." And of course I knew he wasn't. Joe had married Aunt Rosemary in 1943 and wasn't the kind of guy who would grab and kiss a woman he didn't know. But I could tell from the mischievous half smile, that Uncle Joe, although perhaps he wouldn't actually admit it, even to himself, kind of wished he had been that sailor.
But the truth is, that exuberant sailor did not kiss the nurse on V-E Day, when the War ended in Europe, but on V-J Day, three months later, when World War II did…finally…end with the surrender of Japan. And by then, AEM2C Joseph P. Flynn was no longer in New York.